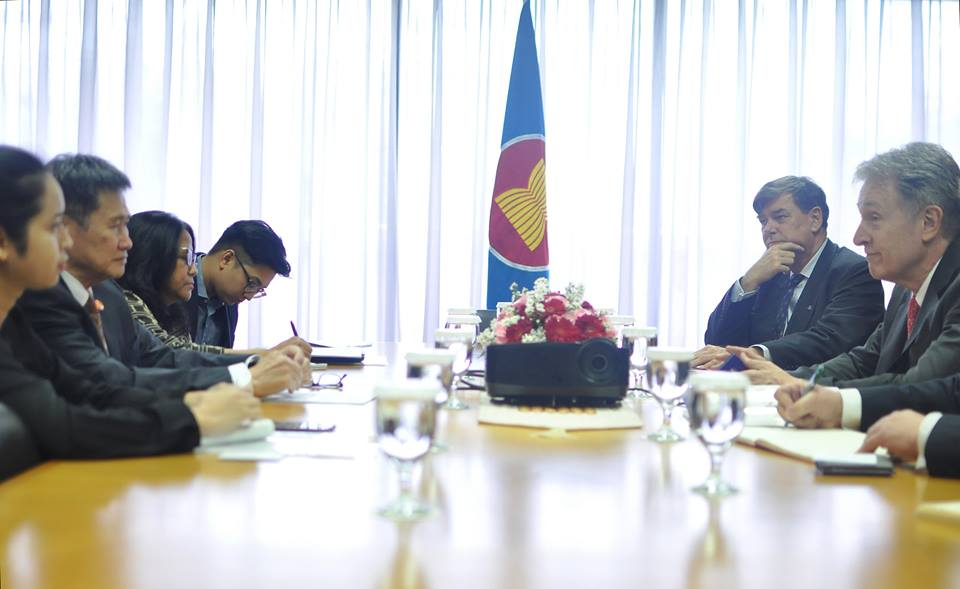 (Photo credits: ASEAN Secretariat)
The Secretary-General of ASEAN, Dato' Lim Jock Hoi, has officially notified the EU-ASEAN Business Council (EU-ABC) of its accreditation as an entity associated with ASEAN. The EU-ABC is now listed as an accredited business organisation under Annex 2 of the ASEAN Charter.
Speaking about the accreditation, EU-ABC Chairman Donald Kanak said, "The EU-ABC represents companies with long traditions, and immense passion for the ASEAN region and its people. We view ourselves as part of the ASEAN family. The region's success will be our success. This accreditation further cements the excellent working relationship that we have developed with the ASEAN Secretariat and a number of other bodies across the region, such as the ASEAN Business Advisory Council. I am confident that for European businesses operating in Southeast Asia, there is a bright future of more growth, more employment, and more investment, leading to more prosperity in the countries and communities in which we work."
He noted that European business remains committed to the ASEAN region, as shown by the 2017 ASEAN-EU Business Sentiment Survey where an overwhelming majority of European companies reported that they expected to increase trade and investment in the region. The EUABC plans to repeat the survey in 2018, with the survey process to be launched at the beginning of April 2018.
Mr Kanak continued: "The Business Sentiment Survey has become a key publication for the EU-ABC and an important source of information for us and for policy makers in both ASEAN and Europe to understand the views of European businesses on a number of key issues impacting on their trade and investment decisions. The 2017 Survey showed a continuation of the strong support of European Businesses to ASEAN, and we hope that the 2018 Survey will continue that trend."