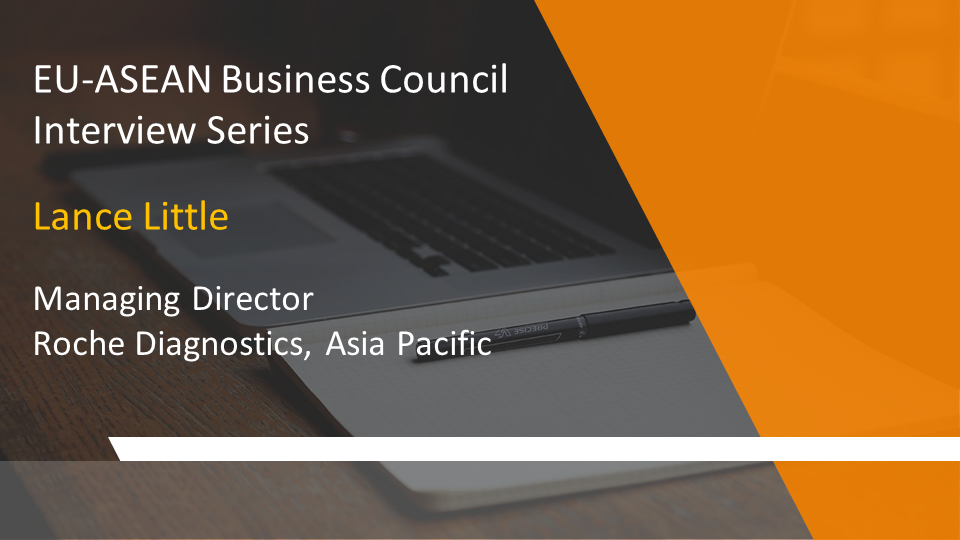 The EU-ASEAN Business Council is pleased to have Lance Little, Managing Director, Roche Diagnostics, Asia with us on our Interview Series. An advocate for diagnostics and the value it brings to patients and the wider healthcare community, Lance provides valuable insight to how COVID-19 has reshaped the diagnostics industry, whether sustainability will feature more prominently in a post pandemic-world and what ASEAN leaders should do to emerge from the pandemic stronger.
COVID-19 has shone a spotlight on the world's healthcare system, thereby, also on the diagnostics industry as the foundation of healthcare covering both infectious and non-infectious diseases. The pandemic has seen the industry accelerated on the whole, including the adoption of digital tools.
Lance shared that sustainability will feature more prominently post-pandemic and is an area that can be looked at through different ways from both the supplier and manufacturing perspectives. The pandemic is a learning process on sustainability around supply chains, manufacturing and the healthcare system; which diagnostic is a key component of.
For the region to emerge from the pandemic stronger, communication and connection would be key.
Find out more, watch the interview here.
Stay tuned for more exciting interviews in the series coming your way!