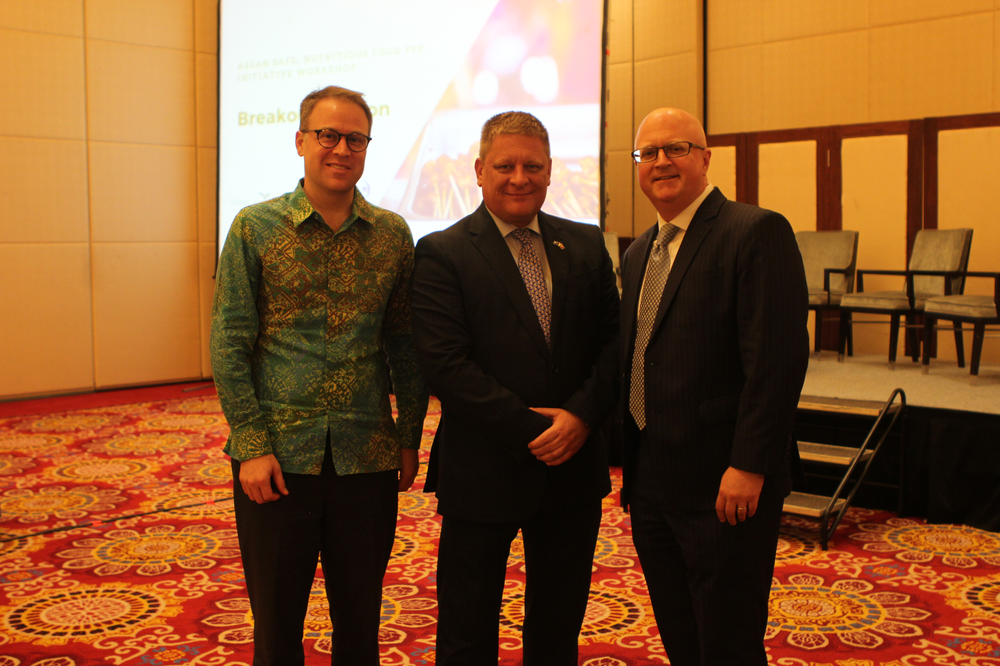 25 February 2020: (Indonesia) – CropLife Asia, EU-ASEAN Business Council (EU-ABC) and the US-ASEAN Business Council (USABC) jointly conducted a workshop in Jakarta this week with national, regional and international food value chain stakeholders that signalled the third instalment of the ASEAN Safe, Nutritious Food PPP Initiative. The three organizations have formed an Alliance to lead the discussion around factors supporting a safe and nutritious supply of food in the region as well as help foster greater partnership between public and private sectors across the food value chain.
The Initiative's third national workshop held in Jakarta brought more than 70 Indonesian Government officials and other national food chain stakeholders together with international and regional industry experts for a 'farm-to-fork' dialogue. The Initiative's first national workshop was held in Bangkok on March 25 alongside the 2019 Responsible Business Forum on Food & Agriculture, and the second instalment was conducted in Hanoi In June 2019.
Above:Shay Wester , Senior Director from the US-ASEAN Business Council gives welcome speech; His Excellency Momon Rusmono, Secretary-General, Ministry of Agriculture, gives opening address.
"This is a key strategic initiative by three of the more important international business associations covering the ASEAN region. Ensuring that what we eat is both safe and nutritious is key for the region. ASEAN is a region of undoubted potential, and part of that potential comes from its people. So, we need to work collaboratively together, with governments and a broad church of the private sector, to make sure the people of the region are eating food that is both good for them and safe to consume," said Chris Humphrey, Executive Director of EU-ABC.
The workshop included a series of best-practice panels where 'successes and setbacks' in the various components that make up the food value chain in Indonesia were discussed. This was followed by an interactive session where public and private sector stakeholders highlighted areas within the safe and nutritious food supply chain where greater partnership would be beneficial. The specific workshop panels included:
• Indonesia's Farmers' Ability to Grow Safe and Nutritious Food
• Moving Safe, Nutritious Food in Indonesia
• Indonesia Consumer Awareness & Actions around Safe and Nutritious Food
"In ASEAN, the security of food and access to nutrition are still vulnerable to threats such as price or supply fluctuations and the growing impacts of climate change even with rising wages and expanding economies," said Shay Wester , Senior Director from the US-ASEAN Business Council. "There is an urgent need for stakeholder collaboration across the food value chain to address food safety concerns, which is increasingly important for Indonesia as it strives to modernize its agricultural sector. The Council and its members are committed to working with the Indonesian government to achieve this vision, and ensure its citizens have a safe and nutritious food supply chain. In doing so, the Council is pleased to partner with our colleagues at the EU-ABC and CropLife Asia to make this session in Indonesia a success, especially as it focuses on such a critical theme where there remains great potential for ongoing collaboration."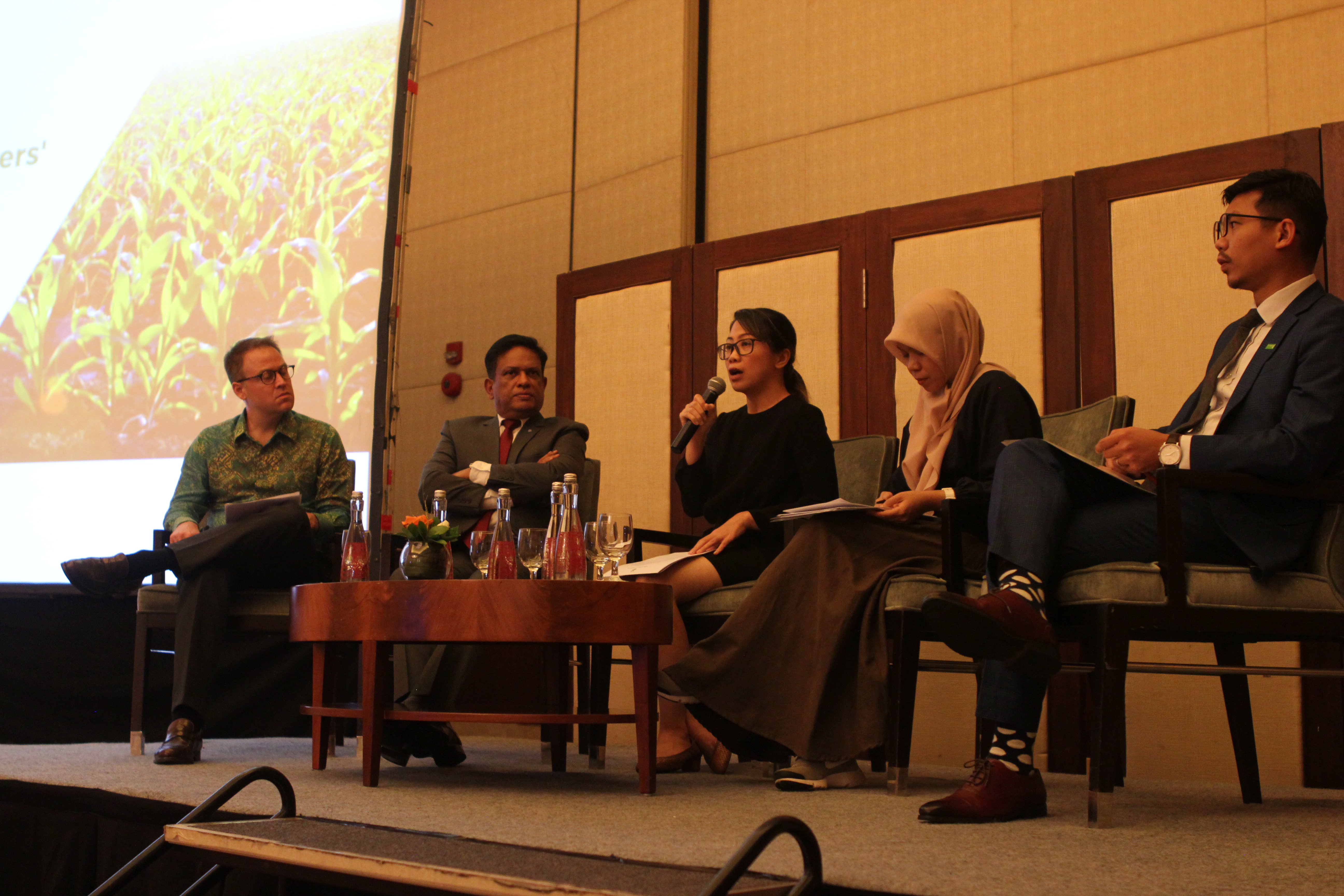 One strength of the workshop was the diversity of perspectives and learnings that were shared. Private-sector participants were from European and U.S. companies such as BASF, Cargill, Danone, Elanco Animal Health, Herbalife Nutrition, MSD Animal Health, PT Sampoerna, and Syngenta. Representatives from associations such the Indonesian Food and Beverage Association (GAPMMI); Australia-Indonesia Partnership for Promoting Rural Income through Support for Markets in Agriculture (AIP-PRISMA); and the World Food Program Indonesia were also present sharing their key perspectives. Indonesian officials participating came from a wide spectrum of agencies such as the Ministry of Agriculture, Coordinating Ministry of Economic Affairs, Indonesia Investment Coordinating Board (BKPM), and Indonesia Institute of Sciences (LIPI).
Among the recommendations arising from discussion were: better education of both farmers and consumers in determining what constitutes safe and quality food, ensuring effective mechanisms and platforms are in place to spur collaboration on the various aspects of the topic and creating an environment where shared trust and commitment can ensure sustainable partnerships that deliver results.
"There's a storm brewing in Asia. The projected prevalence of undernourishment (PoU) in Asia is 11.4 percent, representing more than 515 million people. At the same time, we also have the fastest growing prevalence of childhood obesity in the world. This points to an urgent need to have safe and nutritious food available for consumers," said Duke Hipp, Public Affairs and Strategic Partnerships Director, CropLife Asia. "The ASEAN Safe, Nutritious Food PPP Initiative in Indonesia is a perfect opportunity in getting the food value chain and government stakeholders together to have an open dialogue about food safety and nutrition. We look forward to continuing this conversation across the region in advancing partnerships for effective shared solutions."
The next national workshop planned by the Alliance is tentatively scheduled for Philippines in Q3 2020.