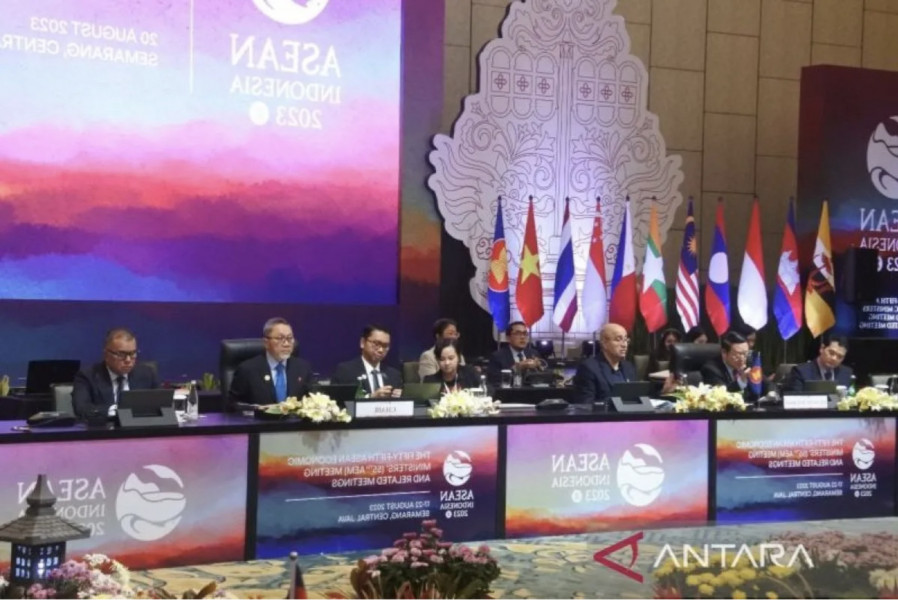 Trade Minister Zulkifli Hasan expected the EU-ASEAN Business Council (EU-ABC) to come up with solutions to address the challenges found in strengthening cooperation between the two regions.
"I hope that the EU-ABC can propose solutions to the challenges faced by ASEAN, especially in strengthening cooperation with the EU," Hasan said here on Sunday.
At the consultation meeting between the ASEAN economic ministers and the EU during the 55th ASEAN Economic Ministers Meeting (AEM) in Semarang, Hasan explained that the ASEAN economic ministers and EU-ABC discussed various challenges to cooperation.
Those challenges include the impact of climate change on economic development and efficient supply chains.
In the meeting, they also discussed the results of the EU-ASEAN Business Sentiment Survey, especially related to digitalization to support small and medium enterprises (SMEs).
"The EU-ABC stated that ASEAN is currently the region with the biggest economic opportunities," Hasan confirmed.
The ASEAN economic ministers also met with the European Commission to discuss efforts to strengthen cooperation in digitalization, green technology, green services, and supply chain resilience.
Meanwhile, Deputy Trade Minister Jerry Sambuaga explained that the consultation meeting between ASEAN economic ministers and the EU prioritized collaboration between the two regions.
"But the point is about sustainability and connectivity, as well as the joint collaboration with ASEAN and other common things," he said.
In addition, the AEM and EU's consultation meeting on Sunday also approved the ASEAN-EU Trade and Investment Work Program for 2024–2025, which includes EU financing assistance in the field of capacity building.
Earlier, EU Ambassador to ASEAN, Igor Driesmans, highlighted the solid relationship between the two regions in trade and investment, which has reached 200 billion euros per year.
Indonesia is chairing the 2023 ASEAN Chairmanship, raising three priority issues in the economic sector: recovery and rebuilding, the digital economy, and sustainability.