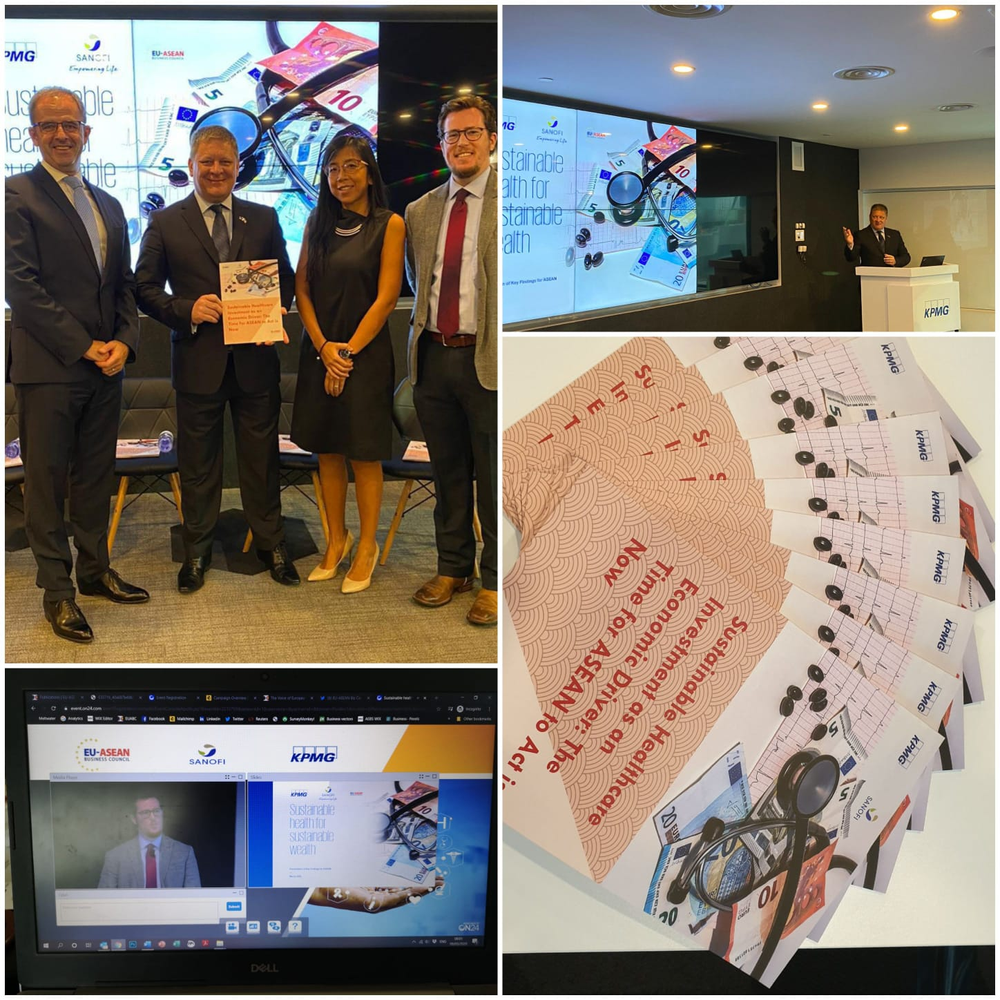 It has been trying times globally in light of the coronavirus and the general market climate globally. With majority of events being cancelled, The EU-ASEAN Business Council, is proud to have organised our very first webinar, together with KPMG and Sanofi.
The webinar was held on Monday 9 March, as part of the "Driving comprehensive healthcare in ASEAN" initiative, and the launch of the first sub-paper, "Sustainable Healthcare Investment as an Economic Driver: The Time for ASEAN to Act is Now!" The launch event was in the form of a panel discussion, with a distinguished panel of speakers and leaders from the Healthcare & Finance Industry.
Panel of Speakers (from l to r): Franck Perraudin,Sanofi Asia External Affairs Head, Amrish Nair,Biorithm Founder, Dr. Ann-Marie Chacko,Duke-NUS Cancer ImmunoTherapy Imaging (CITI), Evelyn Foong,Swiss Re AVP Medical Pricing, Somdatta Basu, ING Asia-Pacific Vice President, Dr. Nikki Kitikiti, NUHS Senior Resident and Singhealth Duke-NUS Global Health Institute, Chris Hardesty, KPMG Healthcare & Life Sciences Director
We are pleased to put together a round up of the monumental morning, for those who attended and of course, not excluding those who did not manage to make it.
Press Release
For a copy of the press release, click here
Sustainable Healthcare Report
1. Position Paper published in 2019 – Driving Comprehensive Healthcare Policy in ASEAN
Click here to download a copy of the report
2. Sub-paper on Sustainable Financing for Healthcare in ASEAN
Click here to download a copy of the report
Pictures
For pictures, click here
Snippets of Webinar
For exciting snippets, click here and scroll down to EU-ABC Media Clips
Video & Slides of Webinar
Missed out on the webinar or need a recap? Click here for video and slides!
The team at EU-ASEAN Business Council will like to express their thanks and appreciation to the panellist of speakers, Sanofi, KPMG and all who helped make the webinar a success in one way or another.