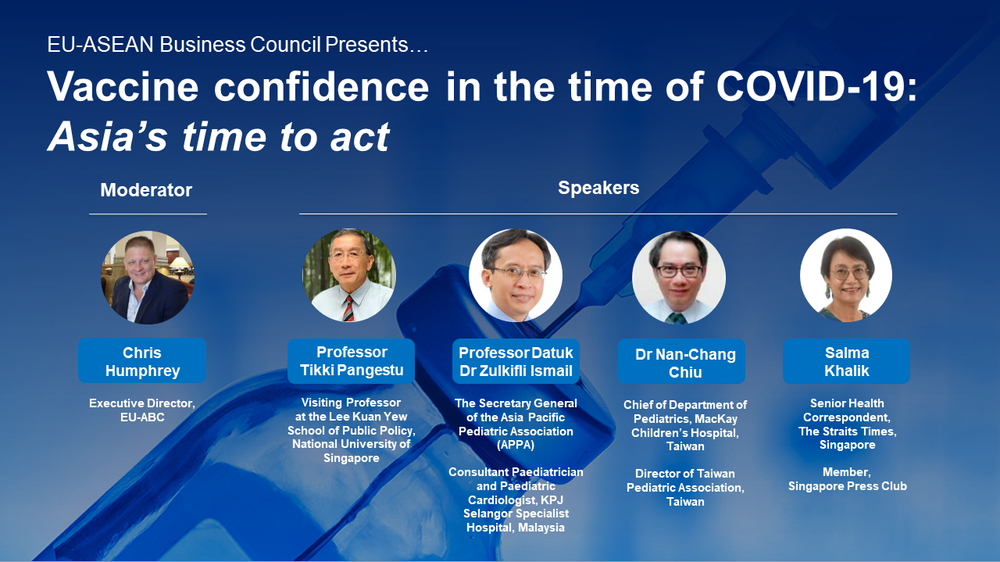 The importance of vaccine confidence has always been prevalent and perhaps more so as COVID-19 takes centerstage in 2020. The EU-ASEAN Business Council kicked off December with the webinar Vaccine Confidence In The Time Of COVID-19: Asia's Time To Act.
Held yesterday, the highly relevant webinar saw an overwhelming response of over 250 registrations and featured an excellent and well represented panel of speakers from policy, clinical practice to media sectors with engaging discussion on barriers to enhanced vaccine confidence in Asia, multi-sectoral solutions to increasing vaccine confidence in the region and specific short and long term actions different stakeholders can put into action to enhance vaccine confidence.
For those who missed the webinar, view it here
The team at EU-ASEAN Business Council expresses appreciation to Professor Tikki Pangestu,Visiting Professor
at the Lee Kuan Yew School of Public Policy, National University of Singapore, Professor Datuk Dr Zulkifli Ismail, The Secretary General of the Asia Pacific Pediatric Association (APPA), Consultant Paediatrician and Paediatric Cardiologist, KPJ Selangor Specialist Hospital, Malaysia, Dr Nan-Chang Chiu, Chief of Department of Pediatrics, MacKay Children's Hospital, Taiwan, Director of Taiwan Pediatric Association, Taiwan and Salma Khalik, Senior Health Correspondent, The Straits Times Singapore, Member, Singapore Press Club for their contribution to a successful webinar.
Supporting Partners
European Chamber of Commerce, Myanmar
European Chamber of Commerce of the Philippines
European Chamber of Commerce Taiwan
More exciting webinars coming your way, keep a lookout!