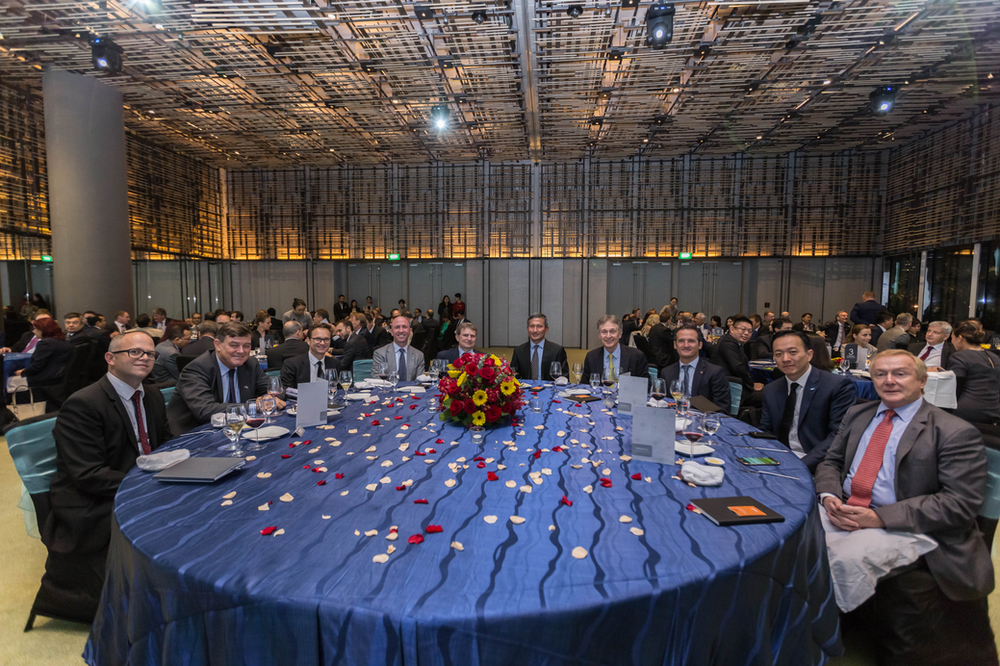 The EU-ASEAN Business Council 4th AGM & Gala Dinner 2017 was a huge success thanks to all our EU-ABC Members, Sponsors, partners and guests.
Honorary guest and keynote speaker at the Gala Dinner, H.E. Dr Vivian Balakrishnan, Minister of Foreign Affairs of Singapore and Minister-in-Charge of the Smart Nation Initiative of Singapore, called for forging ever closer commercial and investment ties between the people of the EU and Southeast Asia.
"This year marks the 50th anniversary of the establishment of ASEAN, and the 40th anniversary of ASEAN–EU dialogue relations. While some parts of the world continue to face challenges in pursuing free and open trade and investment, ASEAN and the EU on the other hand have stood firm in our commitment to bring about development, prosperity, and benefits for our businesses and our people through regional integration. It is critical therefore that we succeed, because the proof of the pudding is in the eating. In this regard, I would like to take the opportunity to express my appreciation for the work done by the EU-ASEAN Business Council," said H.E. Dr Balakrishnan (full transcript provided here).
EU-ABC Chairman Donald Kanak also gave an address during the dinner. He said, "We are companies with long traditions, and immense passion for the region and its people. We view ourselves as part of the ASEAN family. The region's success will be our success. I am confident that for European businesses operating in Southeast Asia, there is a bright future of more growth, more employment, and more investment, leading to more prosperity in the countries and communities in which we work."
He noted that European business remains committed to the ASEAN region, as shown by the 2016 ASEAN-EU Business Sentiment Survey where an overwhelming majority of European companies reported that they expected to increase trade and investment in the region. The EUABC plans to repeat the survey in Q4 2017.
Mr Kanak continued: "We plan further studies and publications regarding trade and investment issues in the automotive industry, healthcare, the Digital Economy and IPR/Illicit Trade issues expected before the year end," he added (full transcript provided here).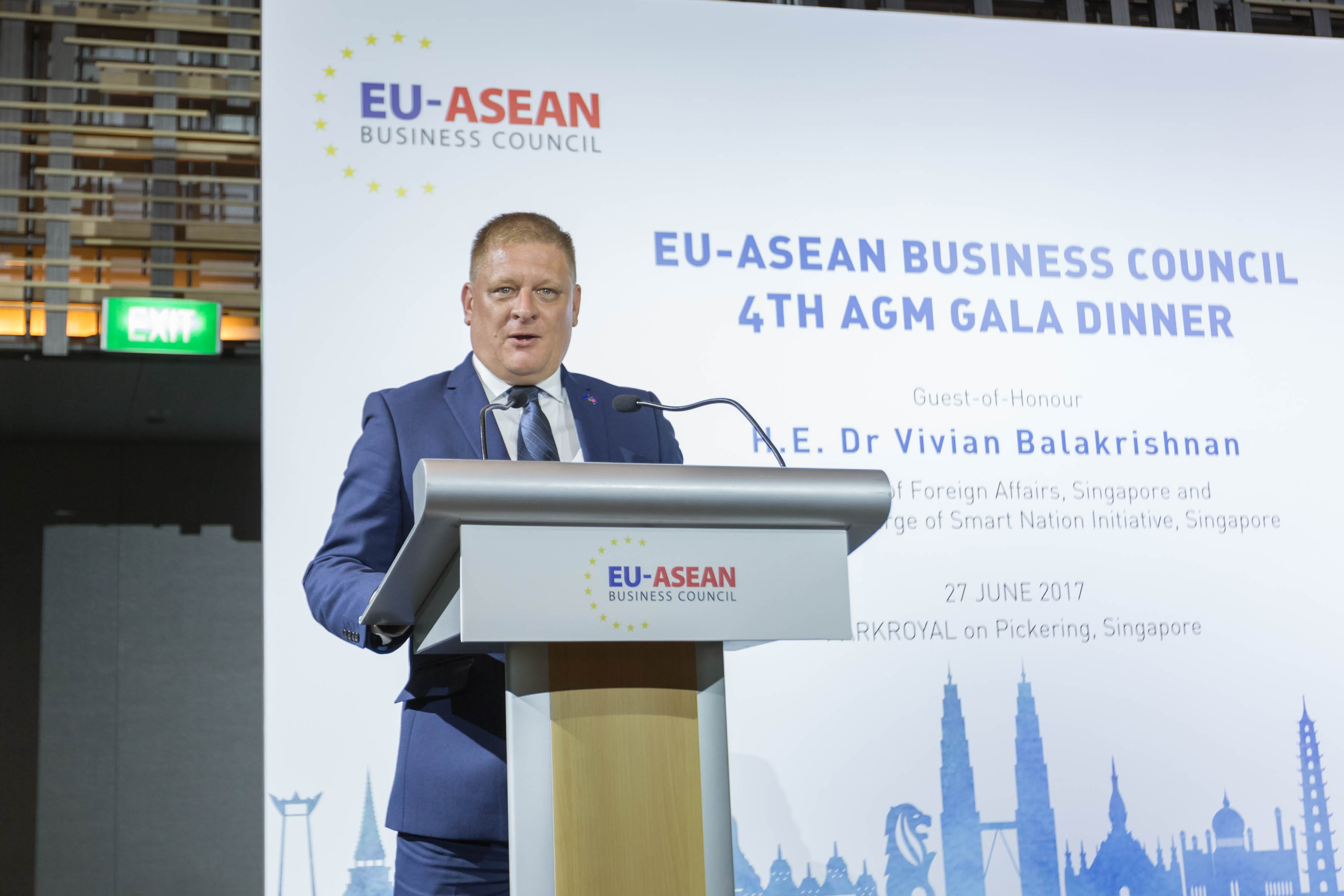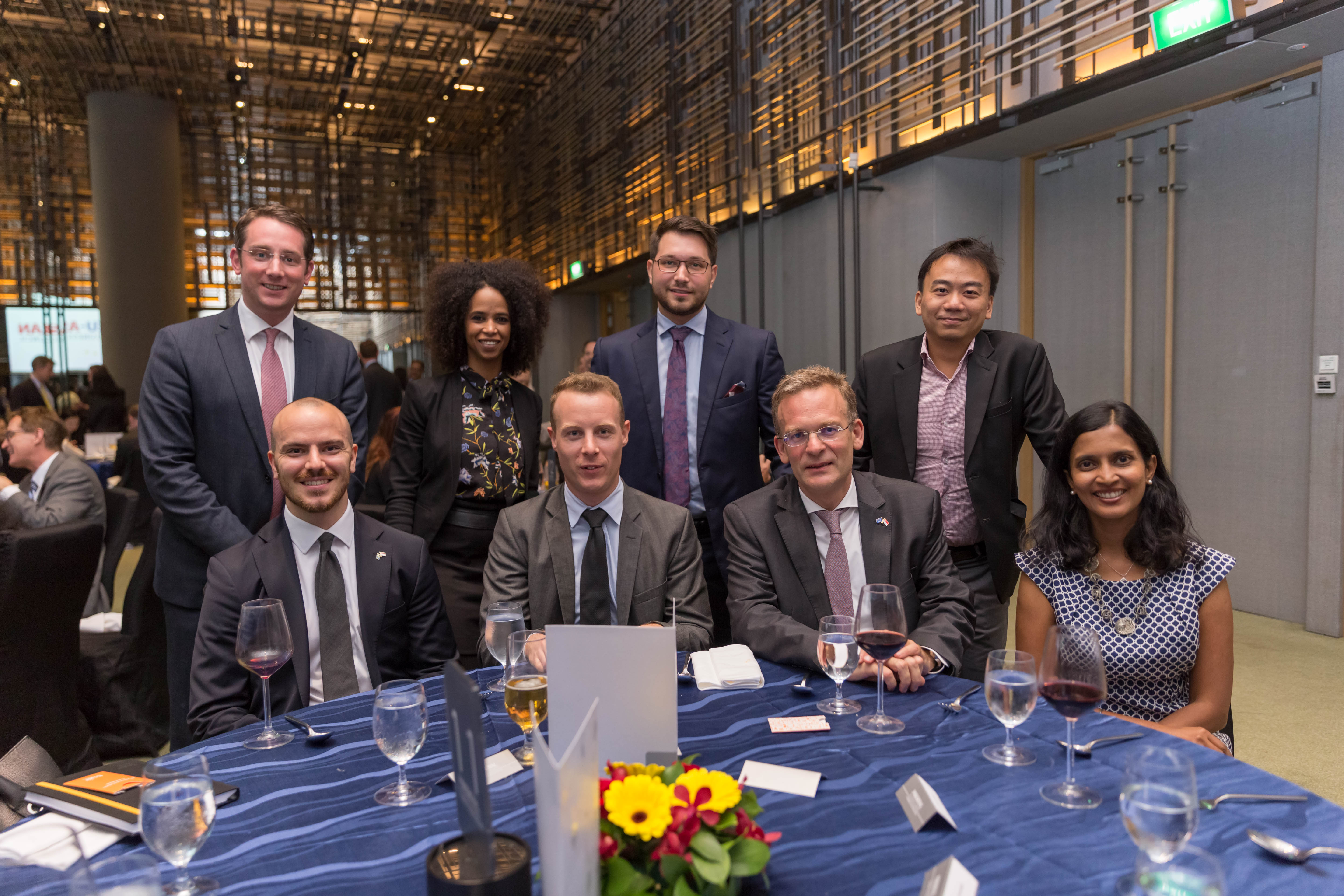 The EU-ABC Gala Dinner was also honoured by the presence of the EU Ambassador to ASEAN (H.E. Francisco Fontan Pardo), the EU Ambassador to Singapore (H.E. Dr Michael Pulch), several European Ambassadors, ASEAN Ambassadors to Singapore and members of the Diplomatic Corps.
H.E. Francisco Fontan Pardo gave an address mentioning the ongoing efforts by the EU to engage in bilateral FTA-negotiations with the individual ASEAN countries, to facilitate tapping into a pivotal consumer market of the future, stating:
"The objective of these negotiations is to further improve trade and investment flows, increase market access for European companies, and ensure a more transparent, open and predictable trade and investment environment for our exporters and investors in the region."
"Ultimately, we are negotiating these FTAs on behalf of industry and thus want to ensure that you can benefit as much as possible from these markets and be ensured unhindered market access removing any discrimination or barrier that hampers trade and investment hereby creating a level-playing field not only vis-à-vis local companies but also vis-à-vis companies from other ASEAN partners countries," H.E. Francisco Fontan continued.
He then concluded by welcoming the progress of the EU-ABC since it was established and its key role in enhancing collaboration between the various chambers within the ASEAN region, and in the ASEAN integration efforts by representing the voice of European business in the region (full transcript provided here).
Following the EU-ABC's AGM and election, its new Executive Board includes:
Chairman: Mr Donald Kanak – Chairman, Eastspring Investments and Prudence Foundation
Mr Theodoor Bakker – Board member of EuroCham Indonesia
Mr Martin Hayes – President, South East Asia, Robert Bosch
Mr Carsten Hess – Vice President & Head of Corporate Public Policy, Asia Pacific, Eastern Europe, Middle East and Africa, Deutsche Post DHL Group
Mr Guy Apovy – President, European Chamber of Commerce and Industry in Laos
The EU-ABC would like to express our gratitude to our EU-ABC Members and Gala Dinner Sponsors, without whom this event would not have been possible:

Full Gala Dinner photos available on our EU-ABC Facebook Page.