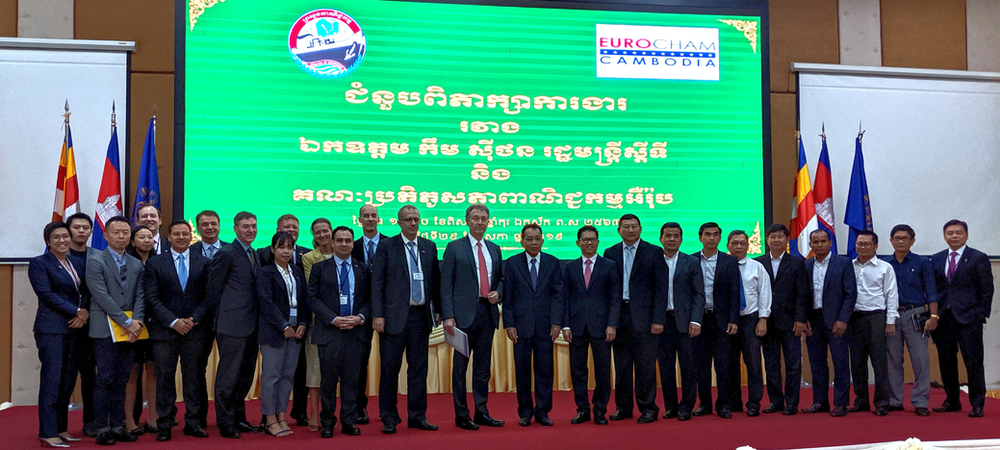 EU-ABC Delegation at the Ministry of Commerce, Cambodia
The EU-ASEAN Business Council, the leading regional body for European Businesses in Southeast Asia, today begun a trade and investment trip to Cambodia, bringing more than a dozen European companies for meetings with the Cambodian Government and Business organisations.
EU-ABC Chairman, Donald Kanak, giving remarks at the Ministry of Mines and Energy
Commenting on the mission, EU-ABC Chairman and head of delegation, Mr Donald Kanak, said: "Cambodia is an important emerging economy in Southeast Asia and an important trading and investment partner in ASEAN for Europe. We are here to promote further improvements in that trade and investment relationship and to have discussions on a wide range of topics to enhance the understanding between government and industry".
He went on to say, "Clearly this is a strong trade and investment relationship and one that we hope will continue to grow. Trade in goods between the EU and Cambodia has grown by around 700% over the last 10 years with the balance of trade being very much in Cambodia's favour. The EU is Cambodia's number one export market in 2018 total trade in goods worth €6.1 billion from Cambodia."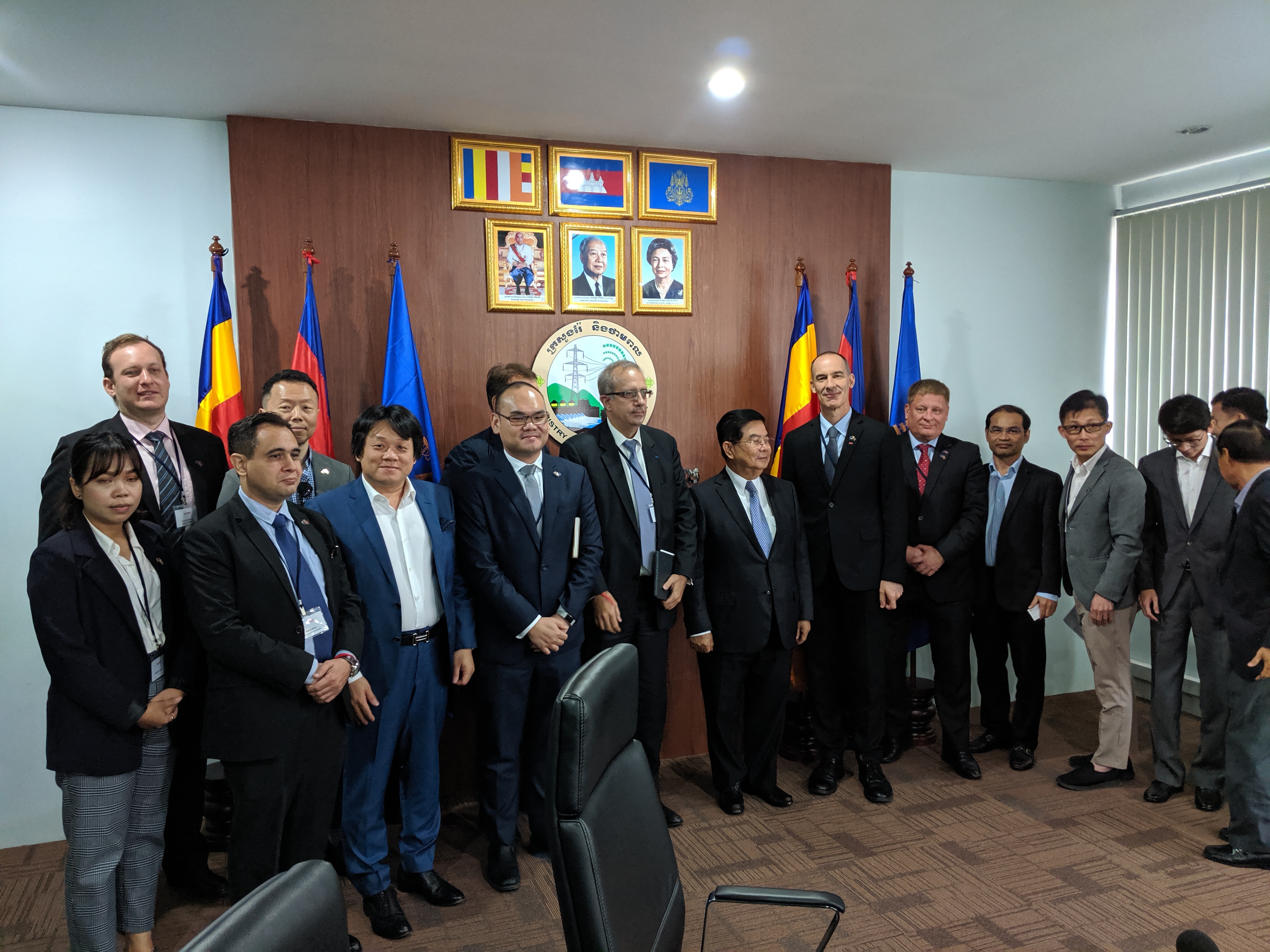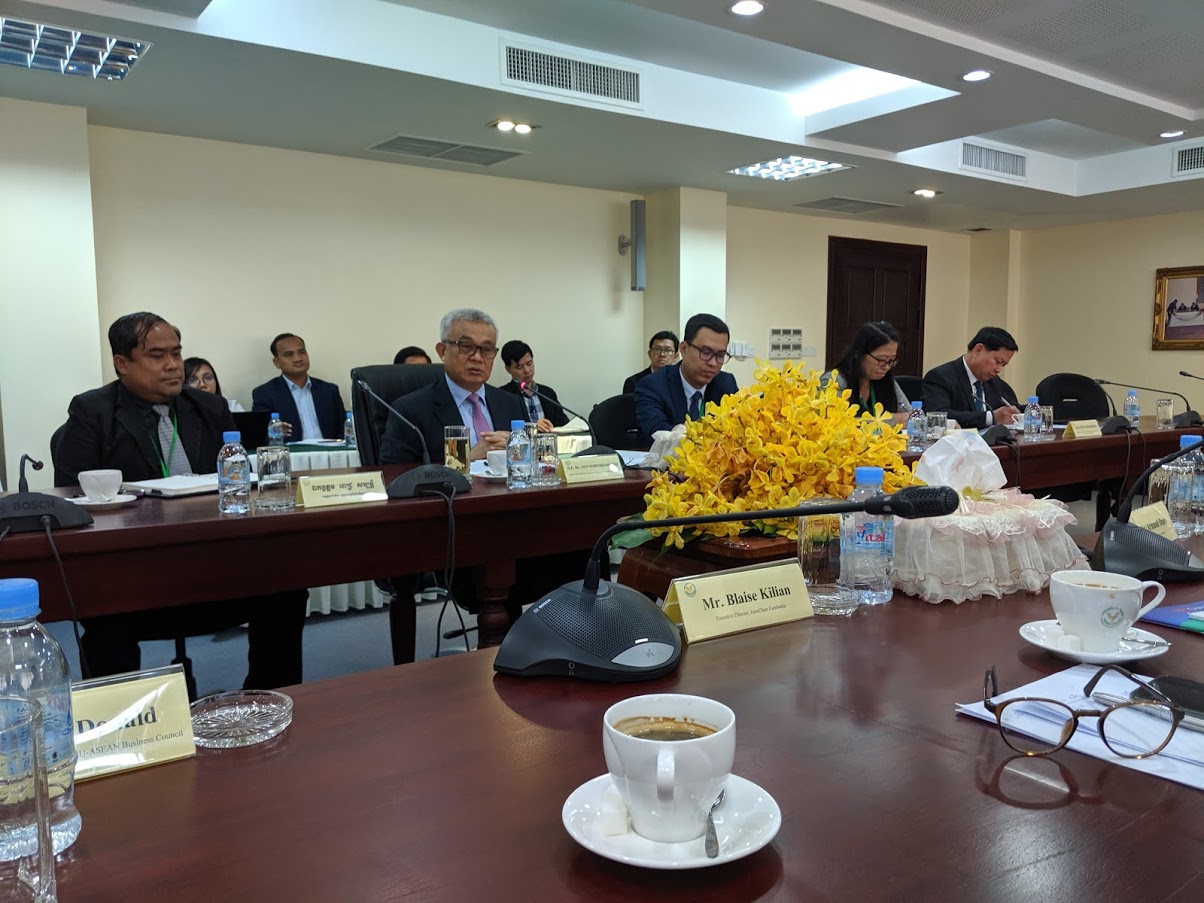 Clockwise from above: Delegation at Ministry of Mines and Energy; After the Ministry of Infrastructure meeting; Minister of Economy and Finance meeting in session; With the Deputy Director General of Customs.
Chris Humphrey, Executive Director of the EU-ABC, said: "Part of our mission will also be to discuss moves to speed up ASEAN economic integration. Cambodia is a vital player in the region and has been a strong proponent of closer economic integration in Southeast Asia. It is clear to us that moving quicker on this project will only benefit the economies of ASEAN and help increase their attractiveness to more trade and investment from the EU."
He also noted that European business remains committed to the ASEAN region, as shown by the 2018 ASEAN-EU Business Sentiment Survey where an overwhelming majority of European companies reported that they expected to increase trade and investment in the region. The EU-ABC plans to repeat the survey in 2019, with the survey results to be released in September 2019.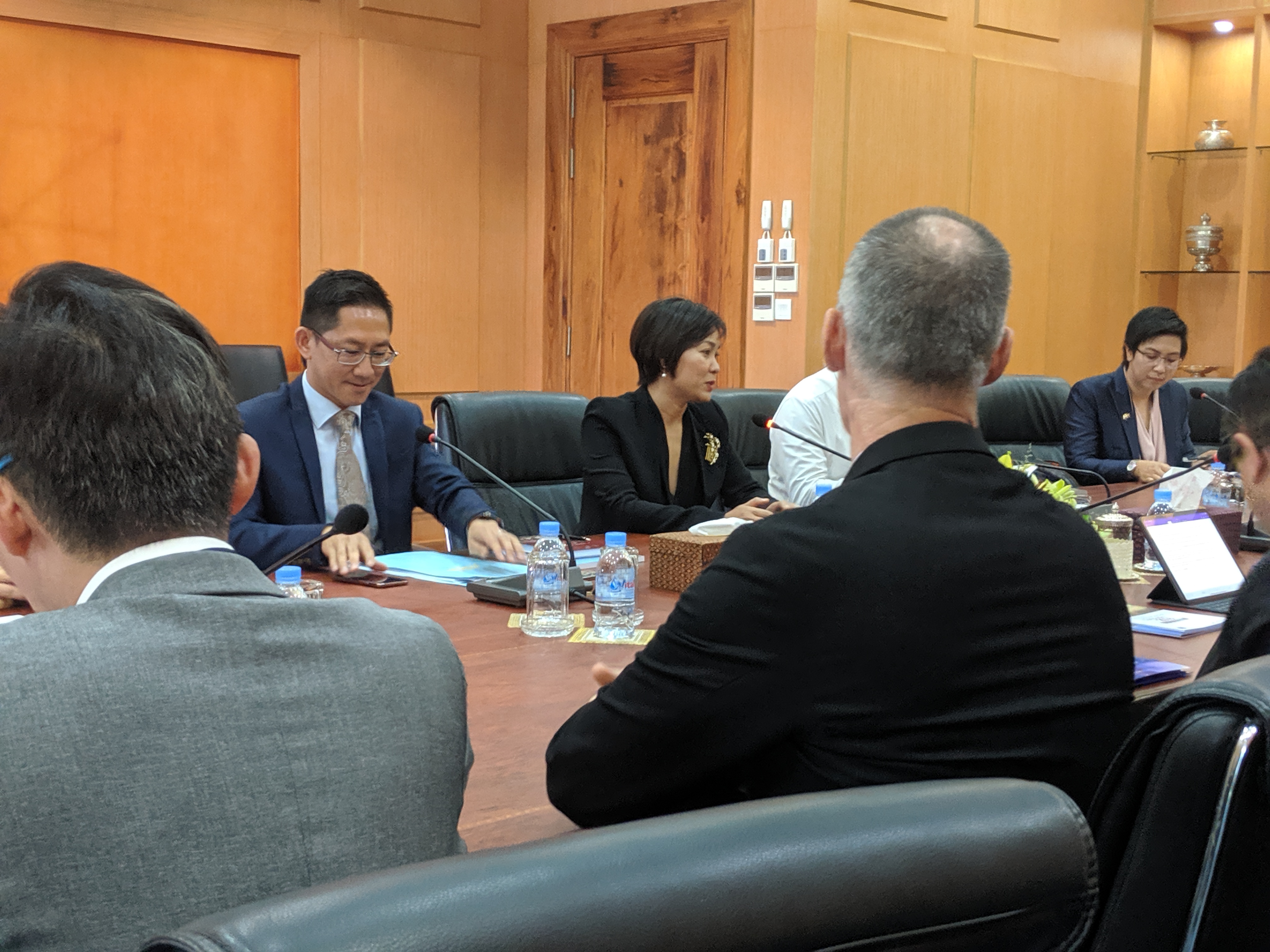 Above: At the National Bank of Cambodia
It was an excellent 2-day mission trip with fruitful discussions with the following ministers and ministries:
H.E Ms Chea Serey, Director General of Central Banking, The National Bank of Cambodia
H.E Dr. Mam Bunheng, Minister of Health
H.E Mr Kem Sithan, Secretary of State, Ministry of Commerce
H.E Mr Suy Sem, Minister of Mines and Energy
H.E Mr Tauch Chankosal, Secretary of State, Ministry of Public Works and Transport
H.E Akka Pundit Sapheacha Aun Pornmoniroth, Deputy Prime Minister, Minister of Economy and Finance
Mr Pha Eng Veng, Deputy Director General, General Department of Customs and Exercise
H. E. Dr. Kan Channmeta, Secretary of State
H.E Mr Nut Unvoanra, Deputy Secretary, General of the Cambodian Investment Board (Council for the Development of Cambodia)
The EU-ABC delegation consisted of 26 representatives of various European companies in the EU-ABC Membership, namely ABB, Allianz, DHL, EuroCham Cambodia, HSBC, ING, JTI, Pernod Ricard, Prudential, SAP Asia, Shell, Vriens & Partners and Zuellig Pharma.